Mentoring Mission
To offer youth the promise of a HOPE and a FUTURE through the power of a relationship with God and with a loving adult.

Mentoring Vision
To join at risk youth with adult Christian role models in order to use the power of relationships to change their hearts and redirect their lives towards God's full purposes for them, their family and society.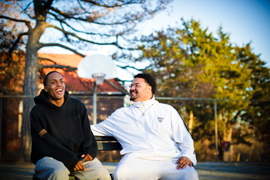 Mentoring
Our Juvenile Justice Mentoring Program is designed to help youth lay a spiritual foundation upon which they can build toward success in every aspect of life. This foundation is the launching point that empowers them to reach beyond themselves and their negative circumstances. The mentor comes along side a youth in a one to one relationship, becoming a trusted friend and guide. The relationship building may take place within a detention center, treatment facility, group, foster care or family home and continue as youth transition into the community. The mentor and the youth meet once a week for 1 to 4 hours. Over time, this relationship provides the youth with the tools needed to overcome the obstacles they face in their life.
Mentoring Stories: 2016-2017 Mentor of the Year
We would like to introduce you to Release Ministries' mentor of the year for 2016-17. Mr. Larry Shannon is representative of all of our mentors who minister unto the Lord in faithful service to the at-risk youth of the Omaha community. Larry and D'Antae were matched in October of 2015 as part of The Village Zone Project which targets 6th grade African American males who live in the highest poverty sections of Omaha.
Larry has persevered through his own battle with bone cancer, remaining faithful to D'Antae for 2 years. Larry has been a positive influence in D'Antae's life as he struggled with academics and being bullied at school; holding him accountable and helping him work through proper responses to peers and teachers. He has also helped his mentee to make better decisions on who he hangs out with, as his mother expressed concern with that issue. When the youth ran away from home after being grounded, Larry was there to be a stabilizing force. When Larry had to go out of town for a stem cell transplant, he made arrangements with another mentor for him and his youth to meet with D'Antae. When Larry got back, he and D'Antae "had a great reunion."
They have done many things together that have helped them build that "great relationship" that Larry speaks of. They have gone to Creighton basketball and soccer games, played checkers and UNO, attended arts festivals, done yard work, fed the homeless, fixed breakfast, and worked out, Larry arranged for D'Antae to take free drum lessons, taking him on Saturdays to the 402 Arts Collective to develop those skills. D'Antae says that Larry is "Nice, funny, active too. He cares about me he likes when we are together. He likes to have me meet new people." The main thing he wants Larry to know is "I love you."
D'Antae's mother says, "I felt D'Antae having a mentor would have been good for him without having his father, and his brother less than a year older than him. I felt he needed someone positive in his life that was a male and could relate to him. D'Antae being paired with Mr. Larry has been one of the greatest gifts that I could say has happened to him. I feel Mr. Larry is so outstanding at being a mentor; he exposes D'Antae to different opportunities that he probably would have never even thought about or seen. I feel that he is molding him to become a great young man. I'm really pleased with the partnership that they set up with my son. I can tell a lot of thought was put in when considering matches. Mr. Larry has not only been a mentor for D'Antae he's been one for me also. He gives good advice. Mr. Larry has been encouraging to all of my family really. We truly love him."
Larry says that he became a mentor because he wants to share his experiences, to set an example and be a role model, to be a friend and to be someone the youth can depend on. He has been all that and more. He has showed D'Antae what it means to remain positive in difficult situations, all the while giving him the guidance and friendship that has allowed their trusting relationship to grow and flourish.
Congratulations to Larry and a big "THANK YOU" to all our mentors who are persevering through their own trials of life and remaining faithful to the Lord in service of so many young people who need that Godly character modeled for them.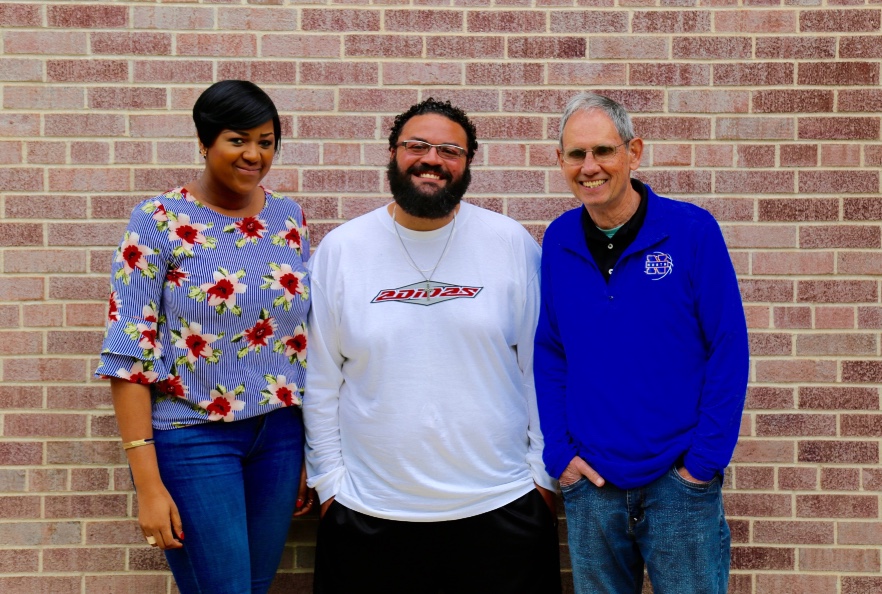 Pictured above is our core mentoring team - Masego Kracke (Female Mentoring Coordinator), Marcus Brown (Male Mentoring Coordinator), and Woody Winchell (Director of Mentoring).
Join Us
Release Ministries is looking for Christian mentors over the age of 18 who have a heart for struggling/at-risk youth. You will be their friend, guide, and advocate. These youth simply need someone to listen to them and be an example of what it means to live in relationship with the Lord.

Contact
For more information or to inquire about becoming a mentor please contact Woody Winchell at 402-455-0808 or at woody@releaseministries.org.
​
You Called Me Friend
The video below is from our 2015 Banquet and is an awesome representation of mentoring through Release Ministries. Please watch and share in the beautiful stories of a few of our mentoring pairs.