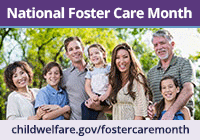 May is National Foster Care Month, and this year's theme is It's All Relative: Supporting Kinship Connections. This struck me because we've recently started providing support to relatives and kinship caregivers who have youth placed in their homes.
When a child gets removed from their parental home, Nebraska DHHS looks first for available relatives for the child – noncustodial parents, grandparents, aunts, etc. If no family is available, they next look for kinship homes for the child – that is, someone they know and have a relationship with, like a neighbor, a teacher, or a family friend. If no one known to the child is available, they will begin to call Foster Care Agencies, to place the child in a licensed foster home with someone unknown to the child.
In Douglas and Sarpy Counties, about 60 percent of children are placed with relatives or kinship caregivers. Research has shown that placing a child with someone known to them reduces the trauma they experience when being removed from their family home. However, these caregivers haven't completed the same trainings that a Licensed Foster Home has done. And taking in a child unexpectedly causes a lot of changes within a family – consider a grandparent going from "grandma" to parenting a small child.
Release Ministries recently began working with these relative and kinship families to provide support when taking in an additional child. This might look like helping them locate supports to help them babysit the child, helping them locate community resources to find food as their budget is stretched, getting a bunk bed or clothes or other supplies for the new child in their home, helping them rearrange their schedules to accommodate the addition of new appointments, and helping them engage a support network. We serve as an advocate for them, explain the court processes to them, and assist in training that they may need.
Foster care month is a time to recognize that we can each play a role in helping children in foster care – even if we are not the direct foster parent. It is a time to celebrate the dedicated foster parents who have loved children and families through hard times. Maybe you are considering becoming a licensed foster parent. Maybe you're in a season of life where that isn't possible, for whatever reason. If that's the case, I would say there are plenty of other opportunities to support children in foster care and their families. Here are a few examples:
1. Cook a meal for a foster family – maybe you make a mean blueberry pie or a great spaghetti sauce. It would be a relief to a foster family to have a night off from cooking, so that they can focus on building a relationship with the foster child.
2. Offer to drive the foster child to an appointment or to school – this is a huge stress for foster parents, especially when they have to balance in their own schedules. Maybe you're going in the same direction or taking another kid to the same school and can add one more stop to your route.
3. Tutor or mentor a foster child – The more supportive adult relationships the child has, the better! This can be as formal or informal as you'd like. Maybe you've got a special talent or interest that you can use to connect with a kid.
4. Babysit for a night – Foster parents need time together, and taking in a foster child can make this more difficult to get scheduled. Babysitting for a date night is a huge help to give parents a break.
5. Volunteer to clean their home or help with laundry – This is an overwhelming task for anyone, but when you add extra kids and busy schedules, it can quickly become too much. Maybe your strength and skills are in organization and you can lend a hand in this way.
6. Pray for them! It is so wonderful to be providing foster care services in a faith based community, because we can share in the power of prayer. Pray for the foster families, children, and their biologial families.
This is not a comprehensive list, and there is room for everyone's talents and abilities to support foster care. If you would like more information, or would like to be connected to a foster family, please reach out to me at janece@releaseministries.org.