​Since 1994, Release Ministries has been reaching juvenile offenders in an effort to supplement the emotional and physical care they receive in institutions with a spiritual examination of life'  problems and difficulties.

Each week, our chaplain and over 40 trained volunteers visit seven to ten different institutions, and meet with over 350 youth ages 10 to 18. We discuss topics ranging from the dangers of drugs and alcohol, to leading an honest, productive life. We emphasize that youth look at their lives, see the need for change, and begin that change while they are incarcerated. These issues are all presented in light of the Gospel and emphasize their need to rely on Jesus for healing and for life change.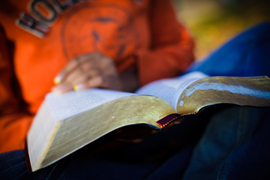 Release Ministries serves various youth facilities/communities across the Metro area. Some of the current and previous areas in which we serve are:
Douglas County Youth Center (DCYC)
Pottawattamie Youth Center
Sarpy County Youth Center
Youth Emergency Services (YES) House
For more information or to inquire about becoming a Bible Study Leader please call (402)455-0808 or email info@releaseministries.org.